News
---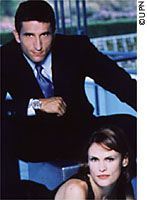 5.17.01 - Seven Days does not appear on UPN's fall schedule and has been cancelled.

4.2.01 - Even though Seven Days is being pulled from the schedule over a month before the season ends, Tom Ropolewski tells Zap2It that he's not worried about the show's future. "If it was any other network, I would say we'd probably be canceled. But on UPN, it's really one of the few timeslots where they can really test out a new show and learn anything," said Ropelewski. Ropelewski thinks that, particularly with the loss of Voyager, UPN is sure to renew the show for another season. As for whether the full cast will return, despite a recent dispute with costar Justina Vail, Ropelewski says look for Vail, series star Jonathan LaPaglia and others to be back if the show is renewed.

4.2.01 - Zap2It.com: Franklin Looks Beyond Seven Days

3.10.01 - UPN has announced that, as of mid-April, Seven Days will go on hiatus to make way for the new drama, Special Unit 2.

1.03.01 - TV Guide Online: Days Tripper - Seven Days is UPN's best and most consistently entertaining show...

12.25.00 - Don't miss Nick Searcy (with much fuzzier hair) in Tom Hanks's new movie "Cast Away."

6.7.00 - Justina Vail won Best Supporting Actress in Television at last Tuesday's 26th annual Saturn Awards recognizing the best in science fiction, fantasy and horror.